ABOUT US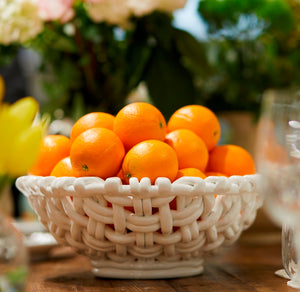 Skyros Designs
Skyros Designs is delighted to offer you a simply exquisite collection of tabletop and decorative accessories from Portugal. Portugal is a country where the ceramic industry continues to strive to manufacture some of the finest ceramics in the world. The skilled artisans take extreme pride in their work and go to great lengths to assure we are offering our customers the highest quality products available. The warm friendly and gracious Portuguese are delighted to share their beautiful country, culture and rich heritage, lifestyle and traditions, all reflected through Skyros Designs products.
Like the Portuguese we love gathering our families and friends for holidays and life's simple celebrations. A hectic day is forgotten when the table is overflowing with candles, flowers and beautiful dinnerware. Even the lasagna brought home from the corner market tastes better when served from a gorgeous baker or on a stunning platter. Sharing your dinner table is a gift of love and for some families, the only precious time they may spend together during the day. Skyros delights in offering dinnerware that will have you looking forward to setting your beautiful table and creating looks from sophisticated and chic to colorful and casually elegant. The possibilities are endless.
Our tabletop collections are made of a very strong thin body which is extremely chip resistant. Most of the dinnerware and accessories can go into a 500 degree oven as well as the freezer, microwave and dishwasher. Our dinnerware is made to endure and be enjoyed for years to come. Our exquisite collections… Abigail, Legado and Eternity glassware as well as the Linho Linens are perfect to complete your Skyros table setting.
Skyros Designs' family shares a passion for life, laughter, family and hard work. Throughout the years, our goals and values remain the same. We are committed to design, quality and the best customer service in our industry. Our customers become part of our family and we strive to bring beautiful collections into their homes.
Welcome to the World of Skyros Designs!
Shop Skyros Designs Bridge Retail Partners!